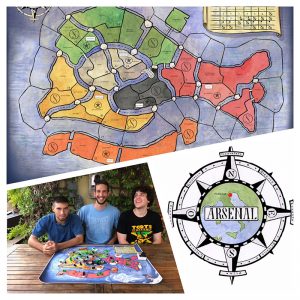 Escape Venice ASD likes everything that opens the mind and that tells of a living Venice. We are therefore happy to introduce Carlo, Joshua and Vittorio: 67 years in 3! These brilliant university students have invented a beautiful game: ARSENAL. Arsenàl was born in front of a sandwich by Pecador in 2014 for play and to fill evenings lidensi and Venetian often marked by the "there is nothing to do" and becomes day after day a project in which to believe and spend. Vittorio Marella joined later as a friend and illustrator bringing his artistic talent in the project.
Arsenàl is a game of land and naval war that sees Venice as the theater of the race to the Dogado! Located in the Napoleonic Venice of 1800 has two modes, the classic All-Against-All and the still experimental mode "Napoleon" in which the French general invades the lagoon with his troops trying to overthrow the Venetian coalition.
After demonstrations in shops of board games and modeling in Bologna (city where they study Charles and Joshua) Arsenàl back where it all began with the first demonstrations in the lagoon with the hope of getting a good ranking at the Archimedes Prize organized by Studio Giochi (award ceremony September 29).
The game is for everyone. For Venetians who will find their roots and traditions in the game (the game is in fact imbued with sayings, proverbs and sayings typical) and for tourists who will discover having fun a different Venice (the game will in fact also be translated into English and probably Chinese). In short, the very concept that we also like to promote with the Escape Room the Merchant of Venice!
It is nice to see that Venice is alive and well with young people. Force guys!
On Facebook, you can find them on the ARSENAL GIOCO DA TAVOLO page (https://www.facebook.com/ArsenalCaJo/).
Info on Vittorio Marella can be found on https://www.instagram.com/vittorio232/.