Want to play Chess Checkers Go and more together with us?
Exercise your brain!
For Escape Venice ASD members the cost is only 5€ for the whole period until 31 December.
Not a member? No problem! You will register with only 5€ per year and you can also access the Escape Room "The Merchant of Venice" as a member of the "Escape Venice ASD".
Play with us, train your mind! 😎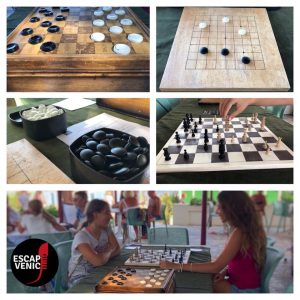 We are now planning new Chess, Checkers and Go courses at different levels. What is your level?
To participate at courses or having info, write an email to: info@escapevenice.it