OVERVIEW
On the occasion of the 2-day event "Venezia Gioca" at Forte Marghera, organized by Venezia Comix and Tana dei Goblin of Venice, Escape Venice ASD will set up the temporary Escape Room "Venice under Attack".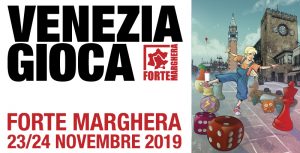 Two full days of fun and entertainment in which the Escape Room will be open from 10:00 to 18:00 in two game modes (15 mins and 60 mins).
There will also be tables to play chess freely.
All you need is having fun and use your brain.
Chess activities are completely free of charge.
https://www.escapevenice.it/room/chess-checkers/
Theme of the Escape Room:
The terrorist group "Spider" has hidden a bomb in the historic center but no one knows where it is and there is no time to look for it in the intricate maze of Venetian streets, in the hundreds of channels and thousands of houses and ancient buildings. The only possibility is to defuse the timer that the anti-terror unit found in Forte Marghera.
Participants (from 2 to 10 people) will enter in the room where the terrorist organization Spider has designed the attack and hidden the timer. The terrorists, who were afraid to be discovered, designed the lock of the timer in a very complex way, with codes and puzzles to protect the mechanism of defuse…
Players will face many challenges and solve puzzles! Will they be able to overcome all the obstacles and decipher the codes before the countdown causes the bomb to explode? The time available runs fast and you have to be able to confirm the timer… but the stakes are very high: Venice must be saved!!!
"Venice under Attack" is an Escape Room created by an all-Venetian Association, Escape Venice ASD. The room was launched for the first time and exclusively for "Venezia Comics al Forte" 2019's edition.
The cost of the game will be 5€ per player for the 15 mins mode and 15€ per player for the classic 60 mins mode (minimum 4 participants).
To participate, get info on the Escape Room and to book one of the two game modes send an email to info@escapevenice.it or contact +39 333 9845117