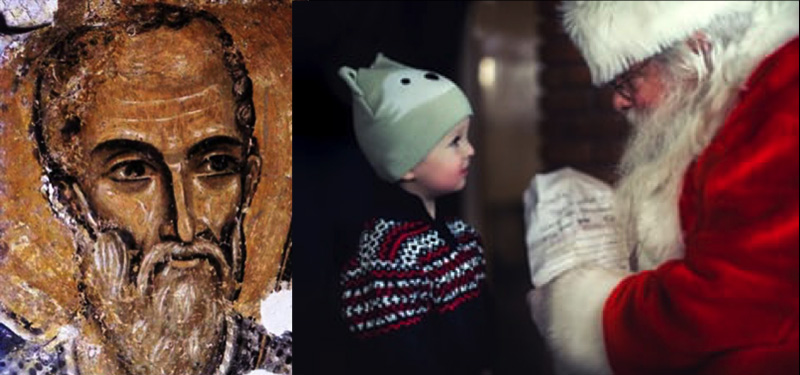 In the Protestant countries St. Nicholas, who was a Catholic bishop, was called Santa Claus, or in Italian "Babbo Natale".
Unlike Santa Claus, St. Nicholas really did exist.
S. Nicholas was the Bishop of Myra (Turkey) who lived in the 4th century. There is little historical information about him and this has fed the legend.
In Italy, history and devotion to St. Nicholas is widespread in two cities: Bari and Venice.
In 1087, when Myra was no longer in Muslim hands, the people of Bari made an expedition and brought to Bari the relics, i.e. the bones, of the saint.
About 10 years later, also the Venetians bet on Myra and recovered other bones, left by the people of Bari in a hurry. The Venetians transported those remains to the Abbey of San Nicolò del Lido, boasting the possession of the Saint's remains.
They declared him protector of the fleet of the Serenissima. Venetians dedicated many works to him, such as the cathedral in the town of Sacile, in Friuli, of which he is the patron Saint.
At the time of the Republic, but still today, during the Feast of the Sensa there is the famous ceremony of the marriage with the Sea. At the end, a solemn Mass of thanksgiving is celebrated in the Benedictine Abbey of San Nicolò at Lido.
But is the Saint Nicholas of Bari the same Nicholas of Venice? Yes! In 1992, with DNA analysis, it was established that the remains belong to the same person.
So, in Venice we have the real Santa Claus!
http://www.focus.it/cultura/storia/come-nata-la-leggenda-di-babbo-natale
https://www.venetoinside.com/it/aneddoti-e-curiosita/post/san-nicola-di-mira-santa-klaus/