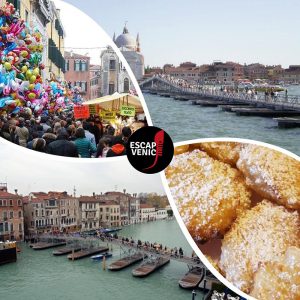 VOTIVE BRIDGES: THE MADONNA OF HEALTH AND THE REDEEMER
Do you know why Venetians built floating votive bridges (and still they do) for the most important feast?
Votive bridges were built to thank God for the end of a plague. They were built floating because, apart from the Rialto Bridge in the Grand Canal, there were no fixed bridges! The tradition began because only one bridge – that of Rialto – served the Canal. It was a hinge for the entire structure of the city and most of the movements were by boat. Even today there are only four bridges over the Grand Canal (including the last one in 2008, the controversial Ponte della Costituzione). This fact contributes to keeping the tradition alive.
In 1631 the Serenissima had to thank the Madonna for saving the city from the plague and it was certainly not possible to ferry the whole city along the Grand Canal to reach the new Votive Temple of the "Madonna della Salute". Then Venetians built a bridge with floating boats. The government decided to repeat every year, as a sign of thanks, the procession in honor of the Madonna called since then "Health". The Feast of the Madonna della Salute, still very much felt by the Venetians, is on 21th November.
But did the Votive Bridge of the Madonna della Salute or the Redentore Festival in the Giudecca Canal (which is on the third Sunday in July) come first?
The oldest bridge is the Votive Bridge of the Redeemer. Built after the plague of 1577 and was 310 meters long! So for the Venetians, building the Ponte della Salute, much shorter, was by now a joke. The Ponte del Redentore wins therefore also for dimensions. The bridge currently built is 311 meters long and weighs 500 tons, in 14 spans supported by boats (see also the post https://www.escapevenice.it/2018/07/13/feast-of-the-redeemer-the-feast-of-the-venetians/)